Welcome to France, known worldwide as the home of the VAL. Initially, VAL stood for Villeneuve d'Asque a Lille, the place were the first trial runs took place in the 1970s. Afterwards they were lucky because the three letters could also stand for vehicules automatique légere.

Few countries worldwide have taken to the idea of light rail transit and run with it more than France. A plethora of light rail lines, streetcars and tram-trains, similar to the interurbans of old, are spreading all over the republic, a sort of light rail renaissance without the abstract painters if you don't count the grafitti artists. As of early 2011, two 14 km metro projects and 29 light rail projects totaling 152 km are planned.





Honorable Mention Dept.: There is one more system, not a whole rubber-tyred tram but a bus with some tram functions. A sin against nature, you say? Even bus rapid transit would quiver in it's guided rubber boots at this man-made abonimation. This is the TVM (transport de Valle de Marne), a bus with a separated alley for traffic. On some sections, the bus's catenary rises and puts a contacting beam into the slit in the road to serve as the earth contact, writhng with metallic pleasure as waves of hot electricity surge through it's lines in anticipation of acceleration, offering its beam to the open, accepting... Oh, sorry. . .I keep forgetting I'm in France.

Transport & Mobilite urbain - the ultimate French transportation forum
Wikipedia Tramways In France
FACS la boite à photos des tramways français - Photos of French tramways and other systems
FACS-UNECTO - Sommaires des parutions dans CFRU
French Urban Transport Society, complete with photos
TRAM 2000 - a French and Belgian traction magazine
Jean-Bat's Tramways en France
LES TRAMWAYS EN FRANCE by Dr.-Ing. Christoph Groneck - a five star site
French Funiculars (in French), includes the St. Just funicular subway, Lyon's metro Line F, Loan's funicular metro and Thaon "telemetro"
ERS images, includes Paris (Val de Seine and Saint-Denis / Bobigny)
Revue CHEMINS DE FER REGIONAUX ET URBAINS - superb converage of urban transport in France
"Train Jaune" - electric tourist train between La Tour de Carol and Villefranche-Vernet Les Bains
CCG - Private French interurban





Chemins de Fer Corses - Private French narrow gague railway on the island of Corsica

Savoie - a private chemin de fer that looks a big LRT
.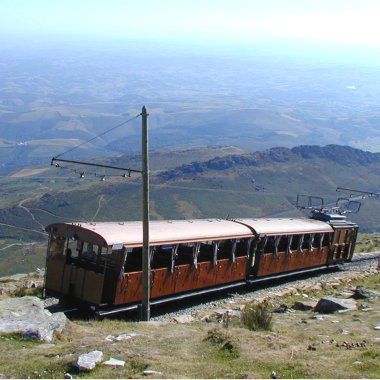 Le Petit Train de la Rhune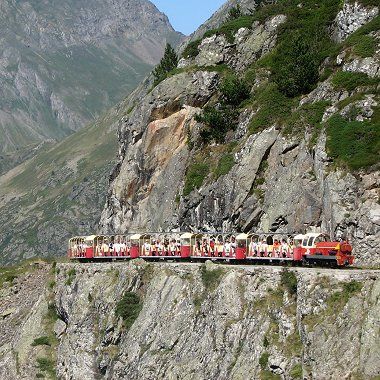 There's probably nothing better than riding in the open air on the edge of a precipice. Le Petit Train d'Artouste, a remote extension of the Paris metro, gives you this excellent opportunity.
Other light rail and metro-like lines in France include Le Tire Bouchon, Le Blanc Argent, Les Chemin de Fer de Provence, La Ligne des Hirondelles and Le U Trinighellu Corse.
Lestramways électriques de Versailles - a short movie
Les Chemins - a rich site on French urban transport
Le Gart - French public transport links
Trams-In-France from Dr.-Ing. Christoph Groneck